I've been meaning to post for a while now, I just don't seem to have as much time as I use to. Just when I think things will settle down, something else comes up. It's ok though, I'm havin a good time and don't mind at all.
While Marty was home this last time we installed new laminate floors. Let me just say, laminate flooring is the best thing since icecream!
The old WHITE carpet we had was brandnew when we bought the house in 2003. The carpet was the really cheap stuff, so in just over a years time there were beat down trails going through out the house and the color was quickly going grey. The part that really forced the change though was the dog smell. Since our house is so small I've had to work so, so hard to keep the dog smell out and in the last several months that task has been overwhelming. We finally had it, and the carpet went to the dump.
These are the before pictures, I forgot to take the shots with furniture though.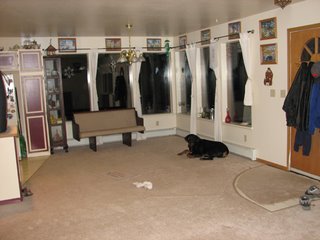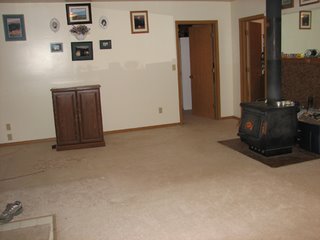 Pete's hiding in the bedroom, the whole thing freaked him out.
******************
These are the after pictures....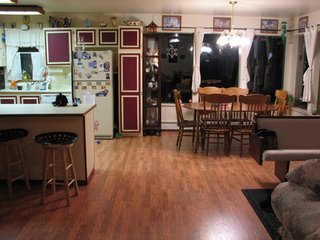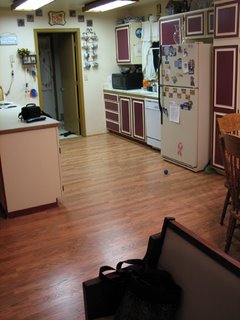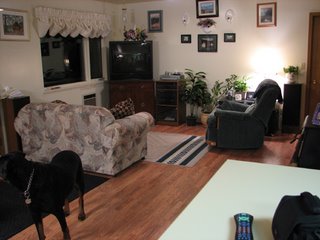 This is our house, and now you've had the tour. Don't pay to much attention to the decorating, it's not gonna stay this way for to much longer. We've had all the furniture for ages and its all second hand, which means I didn't have much choice on patterns or color in the first place. I'm currently looking at new couches and thinking of putting some color on a wall or two, but that will probably have to wait till after the holidays.